Shape future digital products.
I am a senior digital product designer with over 13 years of experience in conceptualizing and designing digital products and services.
I focus on user needs, business goals, technical feasibility & aesthetics.
Case studies and projects I like to share with you.
All killers — no fillers.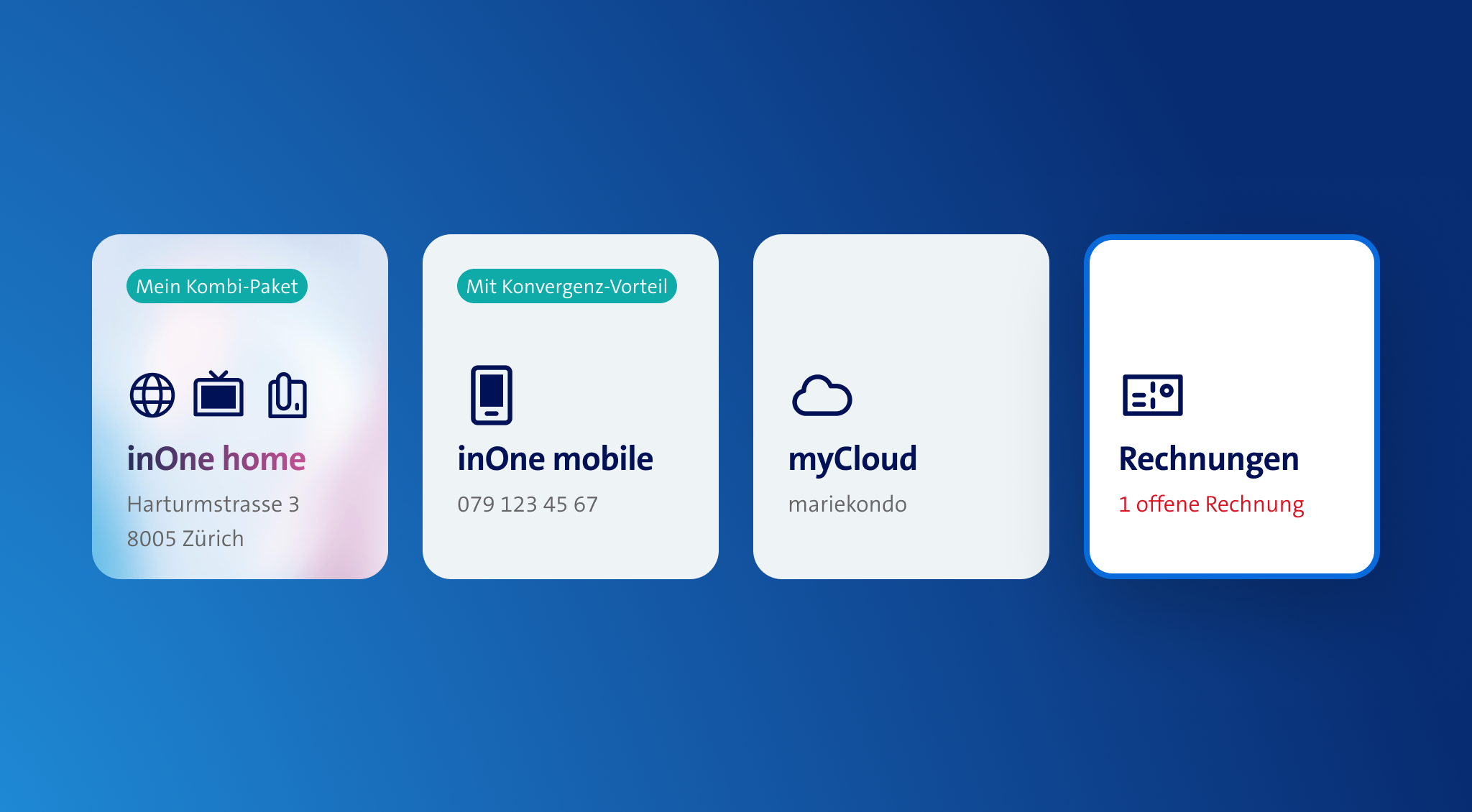 My Swisscom
The most convenient way of self-care.
Skills
Conceptualization
Corporate Identity/Design
Digital Product Design
Design Strategy
Design Systems
Experience Design
Google Design Sprint Facilitation
Interface Design
Prototyping
User Testing
UX Strategy
Tools
Ableton Live
Adobe After Effects
Adobe Illustrator
Adobe InDesign
Adobe Photoshop
Adobe XD
Apple iWork
Blender
Figma
Infinity Designer
Invision
Microsoft Office
Principle
Procreate
Sketch
Webflow
WordPress
Vectorinator
Visual Studio Code
Experience
since April 2023
Senior R&D User Experience Designer
ABB
August 2016 — März 2023
Senior Experience Designer
Swisscom
January 2015 — July 2016
Experience Designer
Swisscom
January 2014 — December 2014
Mobile Interaction Designer
Swisscom
February 2012 — December 2013
Interaction Designer
Swisscom
October 2011 — February 2012
Lecturer User Interface Design
HfG Schwäbisch Gmünd
January 2010 — January 2012
Freelance Experience Designer
Jibe Mobile (aquired by Google)
August 2008 — May 2011
Freelance Experience Designer
Vodafone Global
Education
Certificate
Adobe After Effects: Complete Course from Novice to Expert
Udemy, Louay Zambarakji
Certificate
Certified Barista
European Bartender School, Berlin
Certificate of Advanced Studies
CAS Digital Strategy & Value Creation
ZHAW, Winterthur
Certificate
Wordpress Theme Development from Scratch 2.0
Udemy, Marcelo Xavier Vieira
Certificate
Leading for Creativity
IDEO U
Certificate
Latte Art Barista
Coffee Lab, Zurich
Certificate
Web Developer Bootcamp
Udemy, Colt Steele
Certificate
Design Sprint Facilitator
AJ&Smart, Berlin
Certificate
Bootstrap to Wordpress
Udemy, Brad Hussey
Certificate
Human Centered Design Facilitator
Creaholics, Biel
Certificate of Advanced Studies
CAS Leadership Foundations
ZHAW, Zurich
Certificate
Facilitation
oose, Hamburg
Nanodegree
Front–End Developer
Udacity
Certificate
Certified Professional for Requirements Engineering (Foundation Level)
IREB, Swiss Requirements Engineering Board
Master of Arts
Communication Planning and Design
HfG Schwäbisch Gmünd
Diplom–Designer (FH)
Information– and Media Design
HfG Schwäbisch Gmünd